"We wanted a healthy alternative to beer. We couldn't find it, so we went and made it."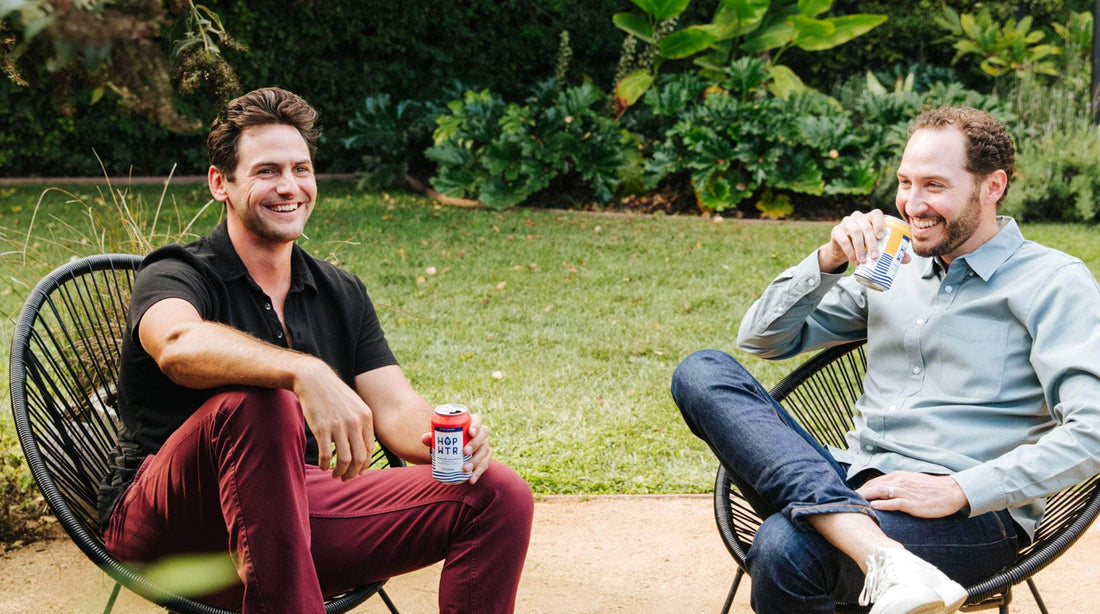 Our brew changed the game
Like many outdoorsy dads in their 30s, we used to kick back with beer to celebrate a bouldering session in Joshua Tree or surfing Venice Beach waves. We loved the ritual. But after a while, we got burned out on the full-belly, foggy-head feeling that kicked in after a few rounds of IPA's and annoyingly lingered the next day.

We came to an agreement: we'd continue to smash adventures together if we could bounce back from the afterparty. So, we started dreaming up an idea for a booze-free brew: the healthy way to hops.

Summer never ends in SoCal, where we quickly turned the backyard into our own version of a microbrewery. Year-round, amid crazy hours, dad duty, and adulting, we tinkered with ingredients, formulas, and flavors that would satisfy our hop craving while keeping us hyped and hydrated. Not make us hide inside with a hangover.
It took nine months to land on a recipe we loved and we launched our first beverage, HOP WTR. But it didn't feel like work. Not once.

That's what SUMMER STATE HOP WTR is all about: each sip of our non-alcoholic brews takes you closer to that carefree, dream-chasing mentality made famous by the place we call home. Now, no one who says "cheers" has to choose between having fun or missing out.

We're here to help you make bold moves that bring out your best, so you can do the most wherever you adventure — like we do now.

We hope you'll crack open a can anytime, anywhere and sip yourself into a SUMMER STATE.

Cheers,
Jordan Bass & Nick Taranto
SUMMER STATE co-founders

Meet the Leadership Team
Jordan Bass
Founder & CEO
Man cannot discover new oceans unless he has the courage to lose sight of the shore

-Andre Gide
Brad Nogle
Head of eCommerce
Ryan Haggerty
Director of Marketing & Innovation
Lauren Davidson
Senior VP of Sales